Allie Schnacky is a twenty-two-year-old American influencer and a Pisces by birth. She was named Alison Schnacky on February 22, 2000, in Orlando, Florida.
Allie Schnacky is a model, influencer, and social media personality with a substantial fan base on platforms such as Instagram and TikTok. She became well-known because of her entertaining content by posting dance and comedy, sketch, and prank videos on her social media sites.
Allie makes her living as a well-known social media celebrity. She'd constantly desired to work in the entertainment business.
Schnacky continued working after that and has since appeared in many commercials, films, voice-overs, live local performances, and theater shows. Additionally, Allie is a talented dancer and singer who has competed in many regional and national events thus far, taking home several prizes.
Besides being popular on social media, the tiktok star Allie Schnacky performs as an actress in several feature films and television shows. She gained national attention for her roles in Golden Gates, BubbleGum Smackers, and other movies.
When she attended Valencia College for her education, Allie actively participated in sports like swimming, water polo, and dance. She joined organizations, including theater, the National Honor Society, and small group leaders while she was a student.
In 2018, Allie shared a photo with her dad at her graduation on Instagram. Lance and Kim Schnacky are Allie's parents.
Her father has worked in many different industries throughout his long career as a singer, composer, musician, and actor. Allie Schnacky is well-known for being the sister of TikTok star Colby Schnacky and a singer named Noah Schnacky.
In addition to Noah and Colby, Allie has two other sisters named Marie Schnacky and Ella Schnacky. Furthermore, Allie has a lot of followers on various social media platforms, including Twitter, Instagram, Tiktok, and as well as in LinkedIn.
Allie frequently posts her professional and personal images and videos on various platforms. Schnacky also manages a YouTube channel with the same name, which she started in May 2013.
Continue reading the article below to know if the two are currently dating each other.
Is Allie Schnacky Dating Austin Armstrong?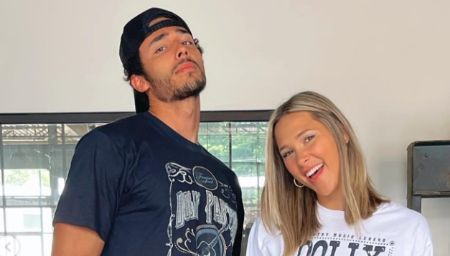 Currently, the status of Schnacky's relationship is a bit uncertain. She doesn't yet reveal whether or not she is dating someone.
Austin Armstrong, a friend of theirs, claimed to like her in her brother Noah's vlog. Additionally, during one of her brother's films, Noah even played a prank on Armstrong by pretending that Allie was about to ask Austin out before she could respond.
Allie and Armstrong are close friends. They both frequently feature each other in their videos poking fun or overcoming obstacles. Austin invited her on a romantic date with their friends in February 2022 when it was Valentine's Day.
Despite that, they have never admitted to being in a relationship. Austin's numerous admissions of his affections for Schnacky and their regular sighting filming popular couple videos on social media sites provide additional fuel for their potential blossoming relationship.