Since 2006, Luke Grimes has been active in the entertainment industry, proving himself as a prominent performer. With his continuous hard work, he has been part of some hit films and TV series. What pushed Luke into the limelight is his role as Kayce Dutton in the tv series Yellowstone. Details about Luke Grimes Movies & TV shows. His net worth revealed.
The 39-year-old actor is mostly appreciated for his performance in the film American Sniper, where he acted as March Alan Lee. Apart from that, he is also a bonafide country musician.
Actor Grimes Top Film Credits:
Luke Grimes As Jamie On Taken 2
In 2012, he acted as Jamie Conrad in the French action-thriller film Taken 2, starring alongside actors Liam Neeson, Maggie Grace, Jon Gries, Famke Janssen, and many more.
Directed by Olivier Megaton, the story of the movie revolves around Bryan Mills (actor Liam) who takes his family to Istanbul, intending to be kidnapped.  While actor Luke shares an on-screen romance with actress Maggie Grace, who is performing as Kim Mills (Bryan's daughter).
He Was March Alan Lee On American Sniper
Released on 11 November 2014, American Sniper is a biographical war drama based on Chris Kyle's memoir American Sniper (2012). In the film, Luke appeared as Marc Alan Lee, the late United States Navy SEAL.
Alan Lee was the first SEAL who lost his life during a fierce firefight in Operation Iraqi Freedom when he was on patrol against insurgents in Ramadi city of central Iraq.
Grimes Acted As Elliot Grey on Fifty Shades of Grey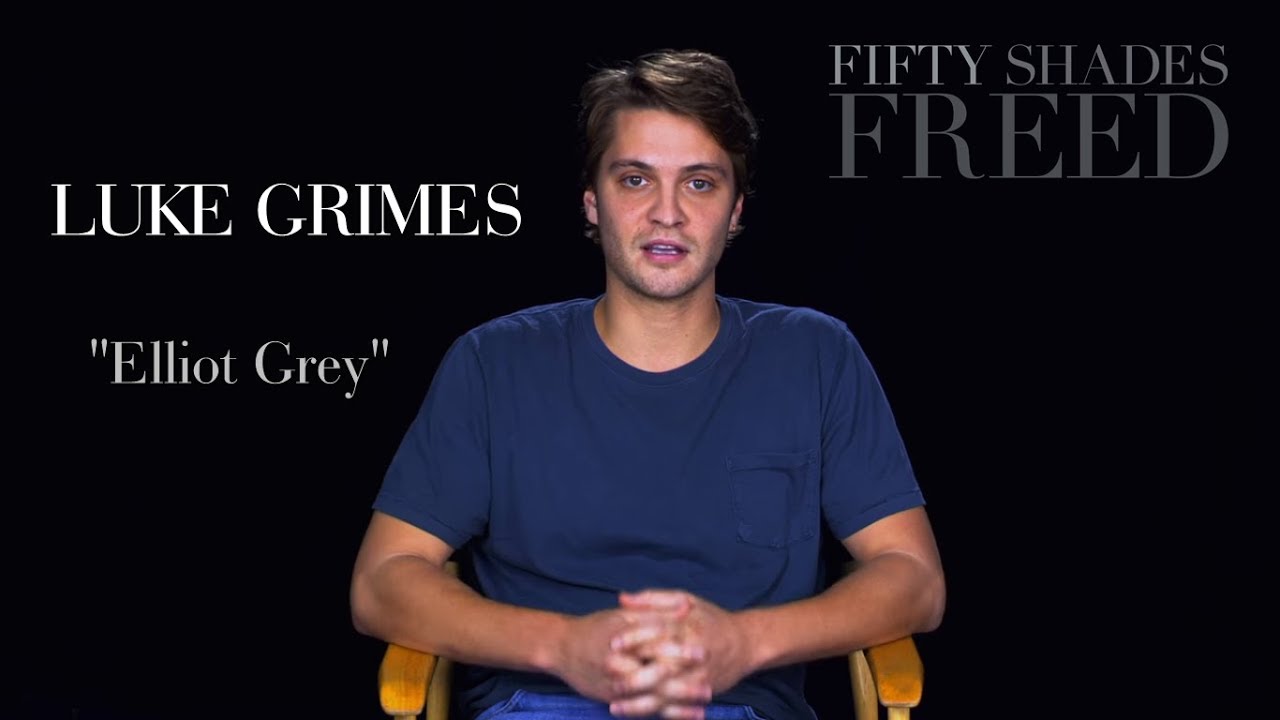 In 2015, Luke worked in Fifty Shades of Grey as the adopted brother of Christian Grey, which made him more well-known. Elliot Grey is one of his most loved real characters.
In the movie, the role of Elliot's brother, Christian is played by actor Jamie Dornan. Luke was seen sharing romance with actress Eloise Mumford on 50 Shades of Grey, while Eloise's character name is Katherine "Kate Kavanagh.
James Foley made the sequel of the movie as Fifty Shades Darker, which premiered on 7 February 2017. Then, Fifty Shades Freed was released in 2018. And Luke was part of both sequels performing his role as Elloit Grey.
Luke Grimes Played the role of Charlie in the 2015 Film Forever
On 25 September 2015, the movie FOREVER was released, which was directed by Tatia Pilieva and produced by Morgan Marling and Jennifer Kirsten Howell.
Actor Luke was also part of the movie, starring alongside Deborah Ann Woll, Rhys Coiro, Ioan Gruffudd, and Jill  Larson.
Luke's role in the movie is of Charlie, who is one of the residents who find an unrevealed I.D. of Alice (actress Deborah); however, he doesn't reveal her lie. Later, Charlie and Alice got into a romantic relationship. In the final scene, the two were seen together boarding a train and sitting by the station beach with the word "forever."
The Dayton Native Luke As Eric Roth As EI Camino Christmas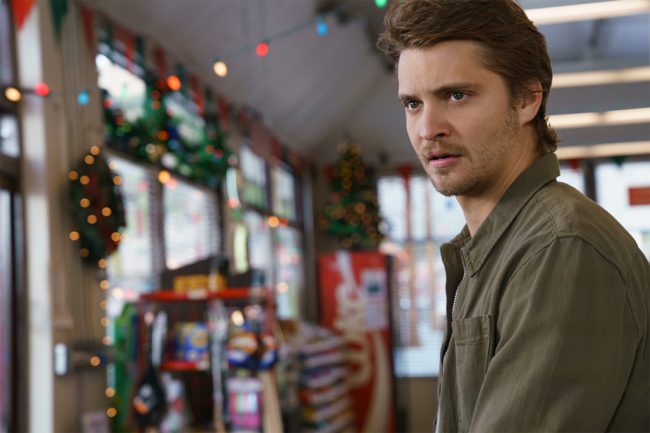 On 8 December 2017, EI Camino Christmas was released on Netflix. Which is a comedy featuring actor Luke as Eric Norri, Tim Allen as Larry Roth, and Dax Shepard as Deputy Billy Calhoun.
The story of the movie revolves around a young man, Eric (aka actor Luke), who is in search of his dad (actor Tim) whom he has never seen. While seeking out for his father, Eric finds himself barricaded on Christmas Eve with five other individuals in a liquor store.
As per the review aggregator website Rotten Tomatoes, the film got 40% of positive reviews from the critics, considering 5 reviews with a 2.73/10 average rating.
Luke Grimes TV Show Credits:
Grimes As Ryan Lafferty On Brothers & Sisters
From 24 September 2006 to 8 May 2011, Brothers & Sisters aired on ABC for five seasons. Which was created by Jon Robin Baitz.
Between 2009 to 2010, the good-looking actor Grimes appeared on the show. Firstly, he was seen in season three of the series as a guest. During the show's 4th season, he was cast as a lead in the role of Ryan Lafferty.
Handsome hunk Grimes As Eli Larken On the 2012 TV Film Outlaw Country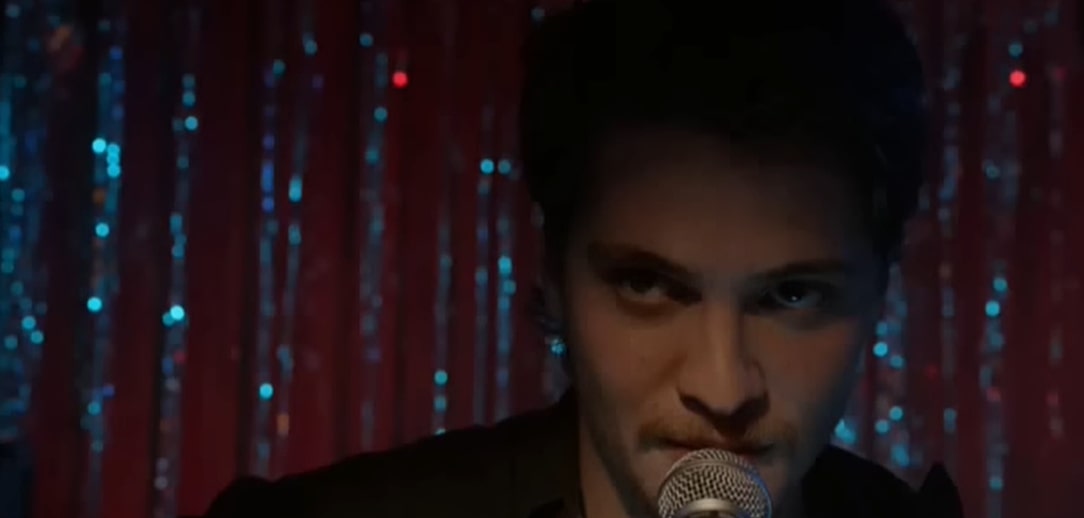 Directed by Adam Arkin, Outlaw Country is an American tv film that was released on 24 August 2012 under Linson Entertainment Sarabande Productions. Luke was cast in the role of Eli Larkin in the film.
He is sharing the screen with actress Mary Steenburgen, Haley Bennett, actor John Hawkes, Johnny Whitworth, and many others.
The 39-year-old James On True Blood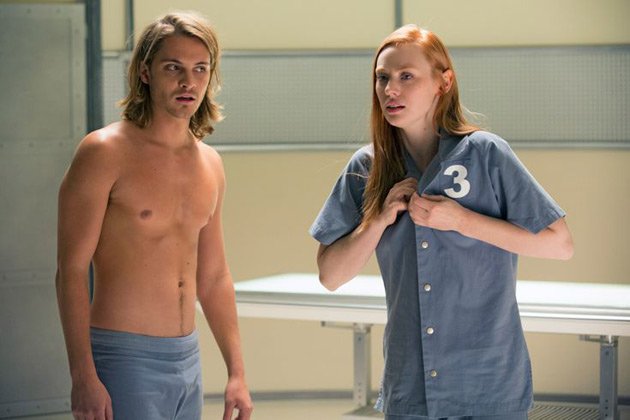 On 7 September 2008, the fantasy horror tv series titled True Blood was released, which was created and produced by Alan Ball. It is based on Charlaine Harris' series of novels called The Southern Vampire Mysteries.
The story of the drama centres on a telepathic waitress, Sookie Stackhouse (Anna Paquin), who lives in the made-up rural Louisiana town of Bon Temps.
During the drama's sixth season, Luke portrayed James for six episodes but he later quit the show. Per BuzzFeed, the actor left as he refused to be involved in same-sex kissing or intimate scenes. On the other hand, his publicist shared that he called it goodbye to look for new opportunities.
Luke Grimes As Kayce Dutton On Yellowstone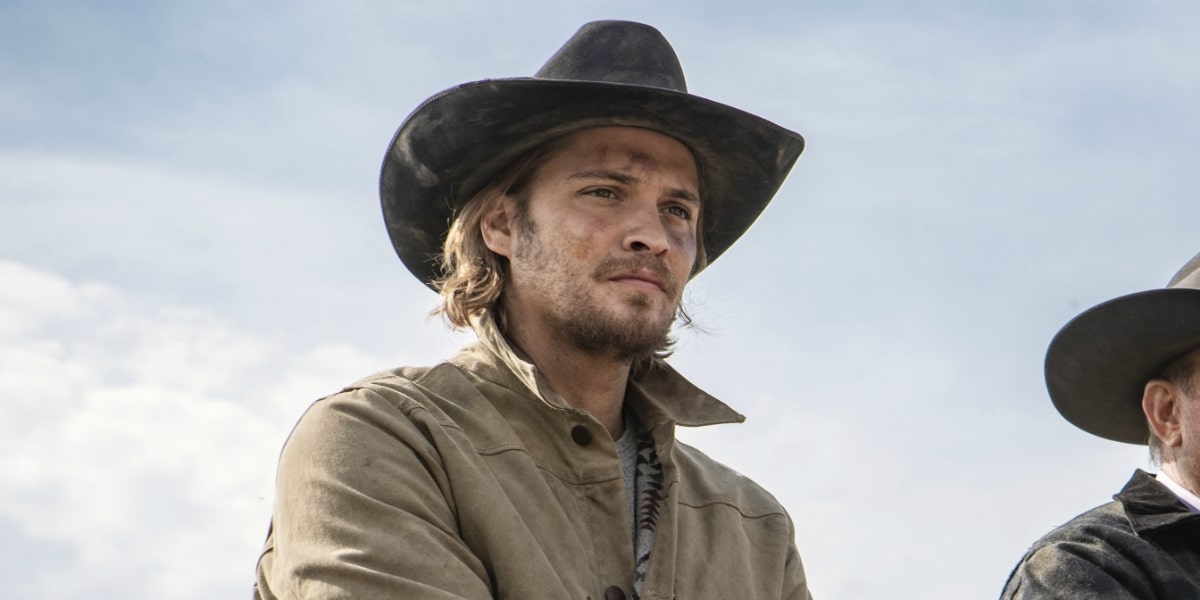 Taylor Sheridan and John Linson's neo-Western drama television series Yellowstone was released on the Paramount Network on 20 June 2018. The storyline is based on the Dutton family, who owns the largest ranch in Yellowstone Dutton Ranch.
Since the start of the series, Luke Grimes has been starring as Kayce Dutton, sharing a screen with actor/director Kevin Costner. Luke's character Kayce is a former US Navy SEAL who also works as a livestock agent and the youngest son of John Dutton (actor Josh Lucas) and Evelyn.
As per the story, Kayce initially resides on the Broken Rock Indian Reservation with his Native American spouse and their child before relocating to the Yellowstone Ranch.
Luke Grimes Movies & TV shows Table
| | | |
| --- | --- | --- |
| Year | Movie | Character |
| 2010 | Shit Year | Harvey West |
| 2011 | The Light in the Night | Boy |
| 2013 | Stars | Evan |
| 2014 | Squatters | Michael Sliverman |
| 2015 | Freeheld | Todd Belkin |
| 2015 | Forever | Charlie |
| 2016 | Manhattan Undying | Max |
| 2017 | Fifty Shades Darker | Elliot Grey |
| 2018 | Fifty Shades Freed | Elliot Grey |
| 2019 | Into The Ashes | Nick Brenner |
Luke Grimes Net Worth
As per the report of CELEBRITY NET WORTH, Luke Grimes has an estimated net worth is $1 million.
He has served in many good TV shows and films, which has made his career earnings strong. Mostly, his job at Yellowstone is outstanding, which makes him earn a fabulous salary.
Luke got his first career break on Jonathan Levine's slasher film All the Boys Love Mandy Lane as Jake.
He was cast as Enoch in the 2007 feature movie War Eagle, Arkansas. Also, he appeared in the role of Marlon Piazza in Brett Simon's film Assassination of a High School President (2008).
Then, he acted in the FX movie pilot, Outlaw Country, as a cowboy, Eli Larkin, in 2010. Although FX didn't pick up the series, it was later premiered as a television film on 23 August 2012.
Previously, Grimes was associated with an L.A.-based country band. Reportedly, he just joined Universal Nashville and has been working hard on his first solo country album.
Nevertheless, Luke is reachable on Instagram as @lukegrimes with a verified account, where he showcases his brilliant lifestyle and travel diaries. As the handsome hunk is also into music, he owns several electric guitars.
Some Facts About Luke Grimes:
| | |
| --- | --- |
| Full Name | Luke Timothy Grimes |
| Age | 39 years old |
| Birthplace | Dayton, Ohio, United States |
| Nationality | American |
| Education | Dayton Christian High School |
| Profession | Actor and Musician |
| Spouse | Bianca Rodrigues Grimes |
| Net Worth | $1 million |