Many people became famous in the entertainment industry for showing great skills in portraying their real lives, and one of them is Big Chief. Justin Shearer, also known as Big Chief, rose to fame after having multiple appearances in the television show Street Outlaws.
Discovery Channel found him the perfect person to be a cast member of the series after discovering that he loves racing and racing cars. The professional race car driver was born in Louisville, Kentucky, the United States, on December 9, 1980, and is now 41.
People wanted to dig deeper into his love life after appearing in interviews and talking about his life. He has greatly influenced aspiring race car drivers who want to enhance their cars and bring them to race tracks.
With the busy schedule of the famous race car driver, people wonder if he had time to find someone special to support his career. Keep reading this article because we have all the information you need regarding Big Chief's wife, marriage, love life, and girlfriend. 
Who is Big Chief's wife?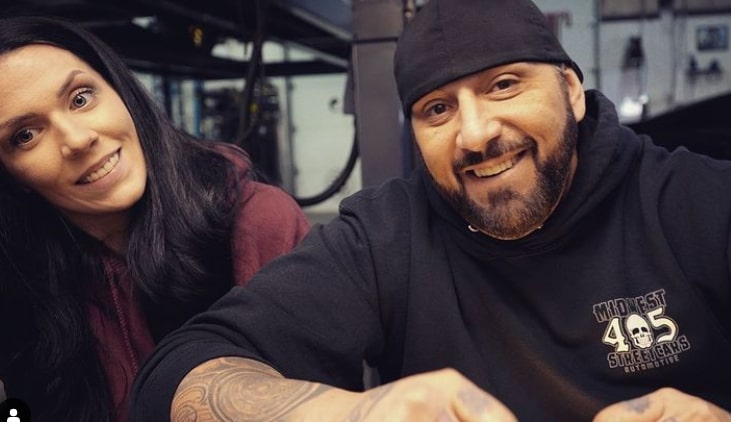 Big Chief's wife has been in question for a long time, ever since he got famous as a television star of Street Outlaws. Moreover, people are eager to know what he has been up to and if Big Chief's wife loves cars and racing.
Many rumors are circulating on social media platforms and media outlets after he was seen being intimate with Jackie Braasch. Fans wanted to know if there was truth regarding the relationship status of Big Chief and Jackie.
For those hoping that they would have a chance to date Big Chief, he is off the market as the news is true about the dating status of Jackie and the television star. As mentioned earlier, the couple was sweet in public places and at social gatherings.
In an Instagram post on April 6, 2021, Jackie posted on her Instagram account that she and Big Chief got each other's backs in every race they participated in.
The post made people admire their sweetness to each other, and they also saw their passion for street racing.
People also said that they are perfect for each other because Jackie is also empowering women to show their love for cars and not be ashamed of being different from other women.
She reminded them that if people doubt them, just prove those doubters wrong and be who they are. 
How Did Big Chief and Wife to be Girlfriend Jackie Braasch Meet?
Social media users have been intrigued about how the couple met each other since Jackie is a private person and wants to stay out of the limelight.
Fans also agreed that they did not see Jackie until she appeared on the set of Street Outlaws, so what is the truth?
After a couple of interviews, they revealed they found love in the place where they love the most, on the set of Street Outlaws. Jackie and Big Chief have matched ideations about life and other things because they have the same interests.
Cars and racing have been their foundation to work out their relationship and ensure that they can survive challenges in their way. Furthermore, the couple is living proof that things will be easier to handle if you have the same interests as your significant other. 
He was previously married to Alicia Shearer
After the news that Jackie was dating Big Chief, many people were concerned about his first wife, Alicia Shearer. The couple started a healthy relationship and was often seen being romantic with each other while Big Chief was on the rise to stardom.
Alicia and Big Chief met when the famous television star was 18 and working at a gas station. They inspired many couples not to stop chasing their dreams until they have a stable family.
People spread rumors that the reason for their divorce was the entry of Jackie Braasch in the middle of their relationship in 2017. Moreover, Jackie was even named a homewrecker by Big Chief's fans because she allegedly ruined Alicia's family.
They have been married for a long time before deciding to end their marriage through a divorce. Fans were disappointed as the pair started from nothing and built a good life together for their children, Corbin and Covil.
However, they could not make things work, which led to their separation in 2017. Big Chief is now focused on his career as a television personality and is supported by his new partner, Jackie Braasch.