Chrystal Evans Hurst is a best-selling writer, life coach, and worship leader, in addition to being a mom and loving spouse. Her family and her service to God come naturally to mind as her top priorities in life.
Learn more about the Husband and Children of Tony Evans' Daughter Chrystal Evans Hurst, and also her current age by reading the article below!
Who is Chrystal Evans Hurst?
Chrystal is a lively "girl next door" who enjoys having a good time and wants to inspire other ladies to reach their most significant potential in Jesus Christ. She is the oldest child of Dr. Tony Evans, the well-known preacher of Oak Cliff Bible Fellowship.
Tony and Lois Evans have four children, and among them is Chrystal Evans. The siblings of Chrystal have continued in their parent's footsteps by making their lives work a reflection of their Christian religion.
Priscilla, her younger sister, is an actress, novelist, and motivational speaker who has appeared in Christian films, including War Room. Anthony, like her sister, is also engaged in acting and is a singer/songwriter of Christian music.
Jonathan, a former Football player, is also Chrystal's brother. Chrystal Evans has spent her entire childhood surrounded by the Word of God because she is the eldest daughter of Dr. Tony and Lois Evans.
She owns a website, a podcast that features her family, and books that have been written by her.
How old is Chrystal Evans Hurst? Age and Birthday
Chrystal turned 50 years old on the 7th day last July 2022. Her mother, Lois, gave birth to her in 1972 in Dallas, Texas.
Chrystal Evans Hurst is Married to Husband, Jessie Hurst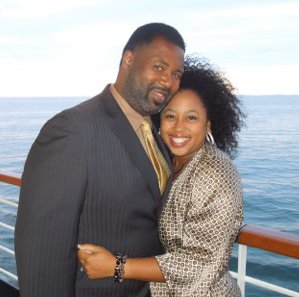 The lovebirds have been married for more than 20 years. The Hurst couple has three sons they share and two girls from their past partnerships, totaling five bright kids.
She considers herself to be the CEO of the Hurst family. Chrystal and her husband Jessie reside in a small community beyond Dallas, Texas.
Chrystal Evans Hurst's Children
Chrystal's previous relationship was with an athlete scholar during their college days. Their relationship resulted in her being pregnant at 19, and Chrystal admitted that her unexpected pregnancy and the years that followed were her darkest moments.
But she was able to get through those tough times because of her reliance on God. According to Chrystal's website, she continually reevaluates her beliefs about her past, present, and future.
She feels obliged to share her experiences to inspire others about how God worked in her life. Chrystal Hurst manages to homeschool her three sons while having a demanding vocation in ministry.