Constance Nunes is a Portuguese-American model, reality show superstar, mechanic, and social media influencer. She is one of the stars of the Netflix reality TV show Car Masters: Rust to Riches.
Read this to know Car Masters girl Constance Nunes' net worth and husband Jared Toller in Wikipedia type biography.
Constance Nunes Net Worth
The Portuguese beauty is living the American dream, starring in a successful reality show on Netflix, making bank off of social media, traveling the world as a model, and generally doing what she loves.
Constance primarily makes her wealth from her stint with Gotham Garage. However, she is not your typical eye candy; she is the only female mechanic at Mark Towle's Temecula, California garage. She is an indispensable cast member of Netflix's Car Masters: Rust to Riches — based around the garage patrons.
Another lucrative source of Constance's income is Instagram. Boasting nearly 900k followers, Nunes makes bank from her posts. According to Influencer Marketing Hub, Constance makes an estimated $2,667.75 – $4,446.25 per post, with an engagement rate of 4.62 percent.
Besides that, Constance has also modeled in her younger years and still does to this day. In that vein, she has appeared in print and TV adverts for several luxury brands.
According to several online sites, Constance Nunes' net worth is $1 million as of 2022.
"Babystang"
Constance Nunes' most prized possession is her 1964 Ford Mustang that she has had since she was 16. The muscle car, affectionately nicknamed "Babystang," is the centerpiece of many of her Instagram posts.
Ever since purchasing Babystang at 16, Nunes has set about tuning up the car but admits that she is still not close to perfecting it.
Constance Nunes Wikipedia
Car Masters hottie, Constance Nunes was heavily influenced by her father, Ernesto, a mechanic and drag car racer. She was by her father's side when he was tearing it up at the Los Angeles County Raceway. She started by helping out at her father's auto repair shop, CARS, ETC., when she was old enough.
Nunes once joked that her no-nonsense father fired her from the family garage. Regardless of whether her father was serious or not, Constance realized the importance of making a name for herself and worked for other companies.
For instance, she admittedly worked in servicing for automobile manufacturing giants like Ford, Audi, BMW, and Acura, as well as smaller garages around LA.
During this experimentation period, Nunes landed a gig at Mark Towle's Gotham Garage. To date, she is the only woman employed at the Temecula, California garage. She specializes in muscle cars, and her official job description reads "engine specialist."
Constance Nunes on Car Masters
Nunes' fans got a glimpse into what goes on in the garage when Netflix commissioned a reality series titled Car Masters: Rust to Riches, based around the patrons of Gotham Garage. Mark Towle and his crew are tasked with building bawdy, over-the-top creations with scrap parts for Los Angeles' elites.
The first season of Car Masters premiered on September 14, 2018, and the second season premiered on March 27, 2020. Netflix greenlit a third season, which is set to premiere on August 4, 2021.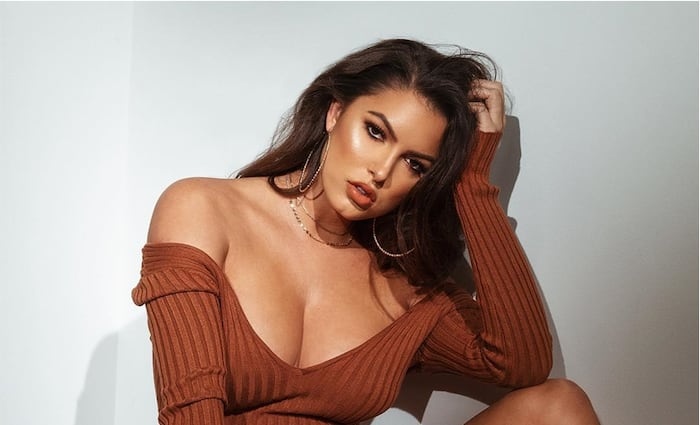 Nunes challenged and broke the stereotype that pretty women hate getting their hands dirty. She is as dedicated and skilled as any of her male counterparts; Nunes is, first and foremost, a mechanic after all.
When she is not popping the hood of cars, Constance also models on the side. Unsurprisingly, Nunes began her career as a car model and worked her charms on the patrons of the Grand Prix of Long Beach.
Subsequently, she branched out into glamor modeling and appeared on print adverts for brands like Wrangler, Jockey, JLUXLABEL, and Feral Cosmetics. Furthermore, she has also appeared on TV commercials for the telecom giant Motorola and the Kim Kardashian smartphone game, Hollywood.
Constance is currently signed to Los Angeles' NTA Talent Agency but does most of her modeling on Instagram. Besides her racy glamor shots and unglamorous garage pictures, she models for brands like Rockstar Energy Drink and VP Racing Fuel. She is close to reaching 900k subscribers on Instagram, currently standing at 893k followers.
Car Masters Constance Nunes Wikipedia page doesn't exist.
How old is Constance Nunes? Birthday, Height, and Measurements
Constance Nunes was born on November 18, 1989, in Los Angeles, California, to parents of Portuguese descent. At the time of this writing, Nunes is 31 years old.
According to reports, Nunes stands at 5 feet 6 inches (1.67 meters) and weighs around 57 kg (125 pounds).
Married Life and Wedding with her Husband, Jared Toller
On February 9, 2019, Constance Nunes tied the knot with her longtime partner, Jared Toller. The ceremony took place at the Newhall Mansion in Piru, California.
While Constance still considers herself too young to have any children, she and her husband are parents to a "fur baby," Buff, their Siberian husky.
Previously, Constance was married for a decade to her high school sweetheart, circa 2008. Their marriage ended bitterly, but things worked out for the best for Constance.
Constance Nunes Parents and Family
Constance's father, Ernie Nunes, is a mechanic and drag car racer and her single greatest inspiration. Ernie was a regular on the Los Angeles County Raceway and let his daughter ride shotgun.
Constance was practically raised on the race track and developed an affinity for American muscle cars, primarily Ford Mustangs.
When he was not racing, Ernie also ran an auto repair shop out of Thousand Oaks, California, named (Conejo Auto Repair Service) CARS, ETC. He has headed CARS ETC., for close to three decades, since its inception in February 1989.