Amy Allan once became the face of the paranormal as the co-host of the Travel Channel's hit series 'The Dead Files.'
However, she is apparently no longer part of the show. Details about why Amy Allan leave Dead Files and what is she doing now.
Who is Amy Allan?
Amy Allan is a medium who is best known as the co-host of Travel Channel's, "The Dead Files," that she stars in alongside retired homicide detective Steve DiSchiavi.
In the show, they solve unexplained paranormal occurrences in locations believed to be haunted across the country.
Allan uses her ability to communicate with the dead which often involves her taking their role and even reliving their death while DiSchiavi offers his years of experience in law enforcement.
Why did Amy Allan leave Ghost Hunter?
In April 2023, the Travel Channel announced The Dead Files was returning with season 15 but that Amy Allan would not be  joining them as she was on a "personal break."
This season marks a significant change as it bids a bittersweet farewell to Amy Allan, a dedicated partner to [Steve] DiSchiavi for over 200 episodes," the network stated in a press release. "As a gifted physical medium, Allan has been a fundamental part of the team since the show's inception in 2011."
The network added, "After years of doing this intense work, Allan will be stepping down for a personal break, passing the torch over to fellow psychic medium Cindy Kaza, who will continue to help solve cases of unexplained paranormal phenomena alongside DiSchiavi."
Amy Allan confirmed her exit in an Instagram video shortly after, further responding to a fan who asked what's next for her.
"Taking a year to get healthy! Enjoying my online store, massage school refresher, guiding a few workshops & even a paranormal weekend or two!" she replied.
What is the Ghost Hunter Medium Doing now?
Amy Allan seems to be doing exactly what she said she was going to do when she took her exit.
She updated us on her whereabouts and current life in a Facebook post earlier this year in July.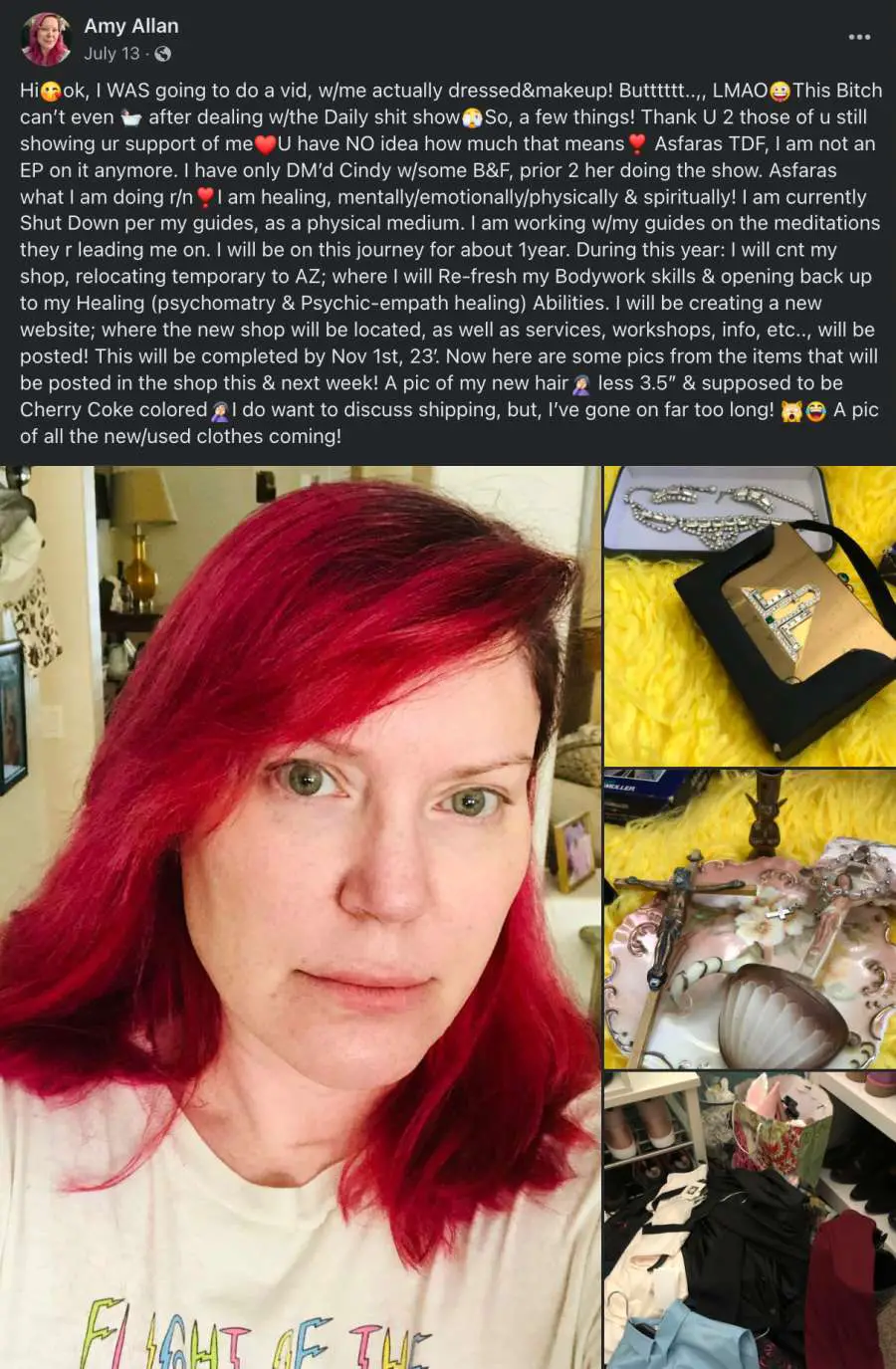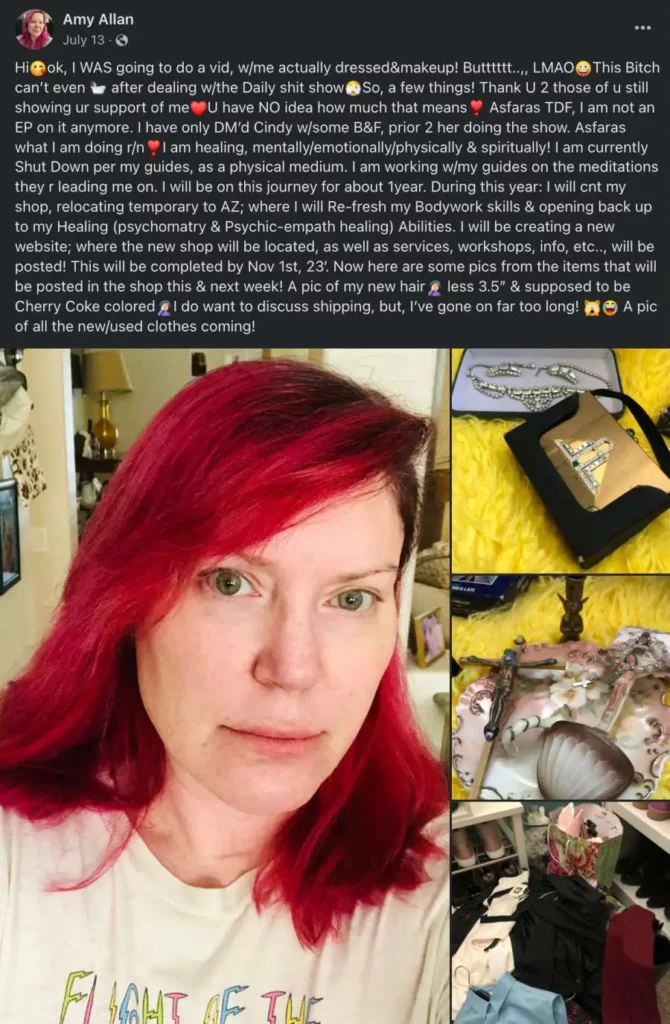 "So, a few things! Thank U 2 those of u still showing ur support for me. U have NO idea how much that means (As far as) TDF, I am not an EP on it anymore," she began by thanking fans and confirming her status with the show.
"I have only DM'd Cindy w/some B&F, prior 2 her doing the show," she added about her relationship with her replacement, fellow medium, Cindy Kaza.
"As far as what I am doing r/nI am healing, mentally/emotionally/physically & spiritually! I am currently Shut Down per my guides, as a physical medium. I am working w/my guides on the meditations they r leading me on. I will be on this journey for about 1 year," she continued that she was still on a year-long break.
Amy Opened Her Brand New Online Store
Amy is also busy with her new online store which she talked about a lot for the rest of the post.
She also posted a picture of some of the products of her new store while also showing off her bold new hairstyle which was a cherry coke red in color.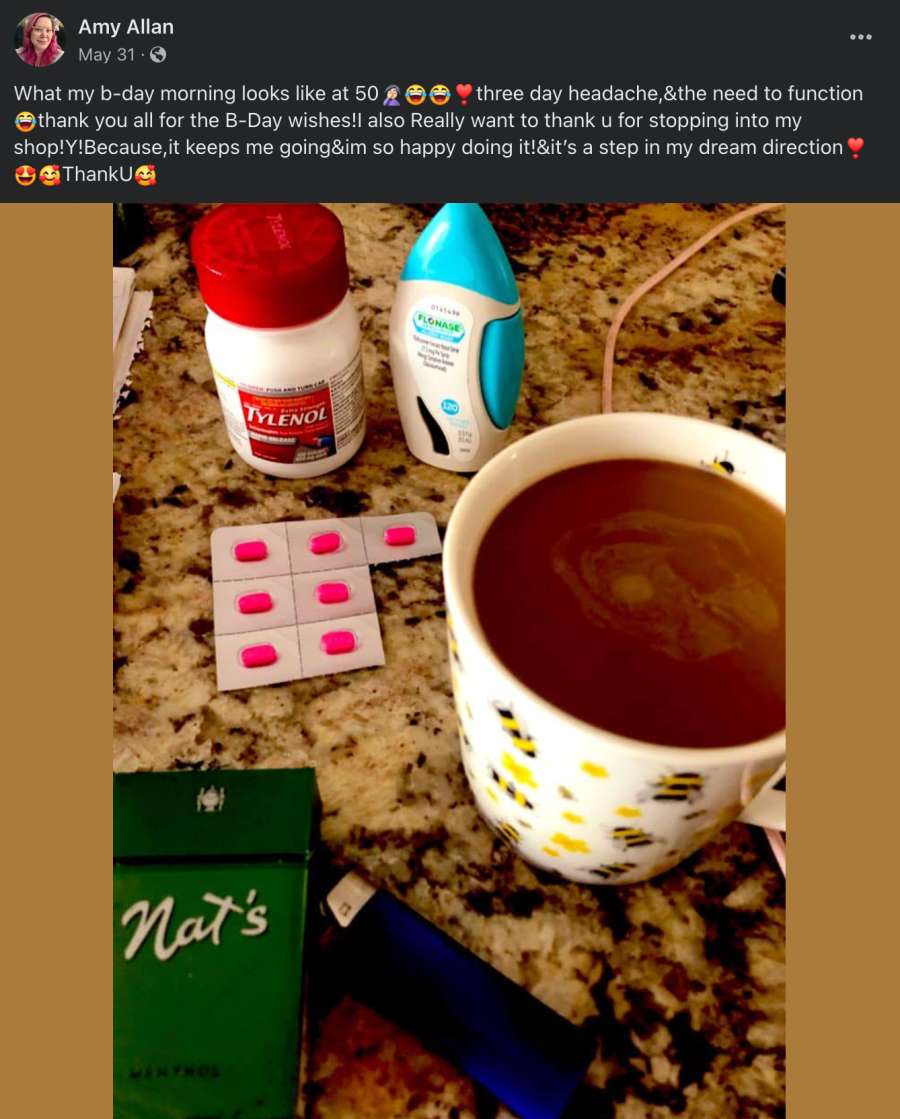 Amy Allan is 50 Years Old
It is nice that Amy Allan is taking some time off especially considering that she turned 50 years old this year.
She was born on May 31, 1973, in Denver, Colorado, and had faced paranormal activities since she was 4 years old at her home at that time in Arvada.
She celebrated her 50th birthday earlier this year online alongside a super realistic picture of a bunch of medications like Tylenol.
"What my b-day morning looks like at 50," she wrote in the caption, "three-day headache,&the need to function.
"Thank you all for the B-Day wishes! I also really want to thank u for stopping into my shop! Y! Because it keeps me going so happy doing it! & it's a step in my dream direction," she added.