Since 2015, the YouTube sensation, Ryan Trahan, has captivated fans with his realistic and entertaining video content. Ryan has a different insight and a talent for making his audience feel like they're right there with him, whether he's exploring new places, taking on outlandish challenges, or just expressing his ideas on life. And now, as a YouTuber and entrepreneur, he has amassed a net worth of $5 million.
With over 12 million followers and counting, it's fair to say Ryan Trahan is a YouTube force to be reckoned with. So, is he married to the beauty and fashion vlogger Haley Pham? In this article, we'll discover his detailed love life.
Is Ryan Trahan married? Who is his wife?
The famed YouTuber, Ryan Trahan, is married to fellow YouTuber and fashion/beauty vlogger Haley Pham. Pham was born in Austin, Texas, on December 5, 2000.
The YouTube celebrity is quite private about her family, although they do occasionally appear in her videos. Hein, her older sister, is her only sibling. Pham is a family person who enjoys spending time with her parents and sister.
Pham's father introduced her to the video-editing program iMovie when she was a child, and she fell in love with video production at that point. She launched her own YouTube channel,'sodapop738,' when she was 11 years old.
Pham's early films included a variety of themes, including vlogs, beauty videos, and lifestyle videos. The YouTuber quickly acquired confidence and began to make more customized material, which her audience appreciated.
Pham shared films about her first period, a hard day at school, a teacher criticizing her, pranks and challenges, and a variety of other amusing subjects.
Ryan Trahan and Haley Pham Love Life
Ryan Trahan and Haley Pham are among YouTube's most popular couples, having millions of followers on their channels. They are noted for their lighthearted and accessible entertainment, as well as their candor regarding their personal lives.
Their Beginning
Although it is unknown when Ryan and Haley began dating, it is thought that they met in late 2018.
Ryan's YouTube channel featured their collaboration, and he uploaded a picture of them together on Instagram on July 11, 2018. Fans instantly shipped them as a pair, and they swiftly rose to prominence on the network.
The Engagement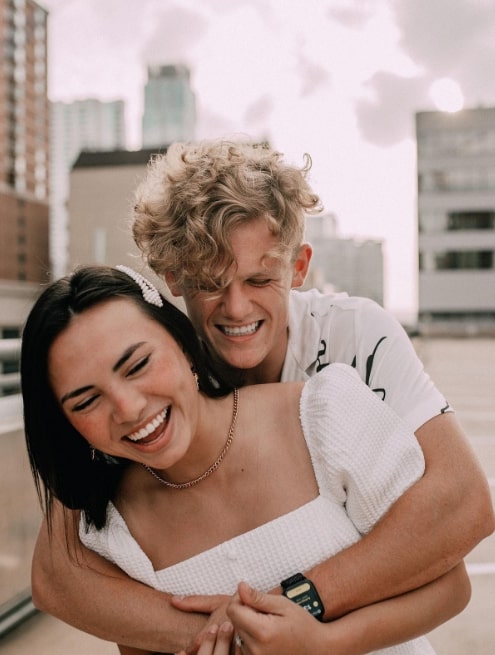 Ryan proposed to Haley on May 18, 2020, and she accepted! They shared adorable photographs of the proposal and the engagement ring as they revealed their engagement on social media. The pair, however, attracted criticism owing to Haley's young age of 19.
They justified their engagement choice, claiming that they were committed to staying with one another for the entirety of their lives.
The Wedding Planning
Ryan and Haley began planning their wedding soon after their engagement, which they recorded on their shared YouTube channel, Traphamily. They posted videos of themselves selecting their wedding outfits, location, cake, and decorations. Viewers were pleased to follow the couple's trip to the altar and were looking forward to their wedding day.
The Secret Wedding
Ryan and Haley, on the other hand, astonished everyone when they secretly hitched on November 18, 2020, in the middle of the COVID-19 epidemic. They invited visitors and violated government etiquette, resulting in outrage and hatred from their supporters.
The couple succeeded in keeping their wedding a secret for almost two months, but online sleuths ultimately discovered it.
Apology
Ryan and Haley released a video in February 2021 in which they revealed their secret wedding and apologized to their supporters and following. They accepted responsibility for their behavior and realized that their desire to marry straight immediately was selfish.
They also deactivated their joint YouTube account, but they are nonetheless married and happy together. Ryan Trahan and Haley Pham's YouTube relationship has been full of twists and turns, from their engagement to their secret wedding and subsequent apologies.
They have, nevertheless, always been open and honest with their followers, demonstrating their dedication to one another. Although they do not yet have children, they keep sharing their life with their followers on social media, and supporters anxiously anticipate what the pair will do next.
Haley Pham
Name
Haley Pham
Date of Birth
December 5, 2000
Place of birth
Austin, Texas, USA
Profession
YouTuber, Vlogger, Social Media Personality
Height & Weight
5 ft 4 inches

Around 48kg

Spouse
Ryan Trahan (m.2020)
Net Worth
3 million USD