Liz Choate is one of the very few lady alligator hunters based in Louisiana, United States. While she has been on various hunting adventures, she mainly rose to fame after joining the History channel based reality show, "Swamp People." Read this to know What ha
At present, the show has just been renewed and is back on TV with its 14th Season. As the show returned on 5th January 2023, some of the regular viewers were hoping for the return of one of their old cast, Liz Choate.
However, with the 8 episodes already premiered from the new season, it seems like Liz is not returning to the show this year either. As this has made her followers wonder about her whereabouts once again. So what happened to Liz on Swamp People, and what is she doing now? Please stick with us to find out.
Swamp People Alum, Liz Choate: Who is She?
Elizabeth Chaote, or Liz Choate, is a fierce alligator hunter born on 21st January 1970. She is 53 years at present. Her parents, Ella Dupre (mother) and C J Dupre (father) raised her in South Louisiana.
Likewise, the hunter remembers her childhood to be full of hunting adventures on the boat with her parents. Moreover, Liz claims that she learned to hunt alligators by seeing her father. And, while most of her friends were scared of alligators, she used to feed her secret pet alligator at her camp, whom she named Charlie Pie.
Though her parents didn't allow her to be near the gators, she said she never listened to them. But by the time she grew up, she had realised her childhood's stupidity; however, she is now a well-known sharpshooter and alligator hunter leading her way to the male-dominated hunting industry.
What happened to Gator Queen Liz Cavalier on Swamp People?
Liz is no longer part of the History channel-based "Swamp People." She first joined the show in 2011 for Season 2 after Clint's departure, making her a member of Troy Landry's team.
Swamp People cast Liz fiercely served the show as a sharpshooter, hunting down many dangerous alligators in the swamps of Louisiana. However, in 2015, Liz had to bid farewell to the show after serving "Swamp People" for 4 years.
And while her fans were confused upon the sudden departure of their favourite Gator Queen, History channel announced that she had to leave the show to focus on raising her children. However, Liz took to her Facebook after some days to reveal the reality.
According to the TV star, the production company informed her that her family, herself and other original casts of the show were no longer a part of the reality show from its 7th Season. With this, she also expressed her sadness by saying that the unexplained action of the production company has caused suffering to them and the fans.
Lastly, she mentioned staying connected with her fans through her live videos. After the post was online, the show makers asked her to remove the post immediately, but instead, she made another posting announcing that she would not remove the post.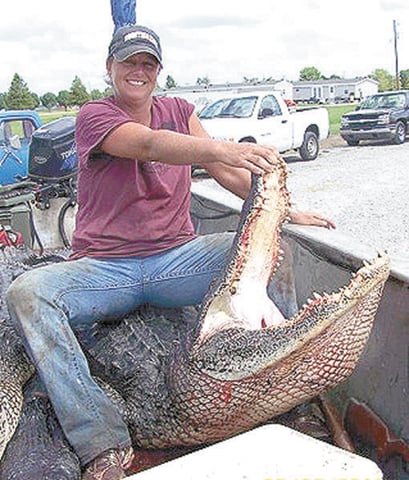 However, in 2021, it was disclosed that Liz would once again return to the show for its 12th Season. History channel's website also mentioned her return as it said,
"Since hanging up her hooks, the Alligator Queen has been focusing on raising her kids. But this year, she decided she couldn't sit by and watch aggressive gators takeover the swamp. She returns to the bayou with her stepson, Destin, to fight back."
Nonetheless, the fans got to see Gator Queen Liz's extraordinary survival skills again in 2021. And while they thought Liz would continue to be on the show, it wasn't very pleasant when she didn't return.
Where is Liz on Swamp People Now?
After being away from the television world, Liz Chaote seems to be occupied with her business. Liz owns a family business, Queen Gator Store, with her husband and children, which sells various products, including cloth stickers, cookbooks, etc.
Currently, Liz from swamp people is living in Pecan Island, La.
Likewise, as per her social media postings, it is evident that she goes animal hunting with her husband, Justin, children and grandkids. On 28th December 2022, Liz posted a picture on Facebook of her husband and granddaughter in front of a dead buck and wrote,
"Justin got a 9 point December2nd , Really Nice Buck,Made Sausage with this one ,In the Hot Spot LOL."