James Stephen Murray is a stand-up comedian, writer, producer, and television personality. Moreover, he is part of The Tenderloins.
In an interview, Murray revealed that some of his comedic influences growing up were the likes of Mel Brooks, Steve Richards, and Richard Pryor. After his one failed marriage, the comedian re-married his wife, Melyssa Davies, in 2020.
Before he found his way onto television, Murr worked as a salesman at a golf course. Later on, he also transitioned into the world of print media with the publication of novels like Awakened. Here is all you need to know about James Murray's wife and his net worth. Also, know his sexuality.
James Murray on the Impractical Jokers.
Like the rest of the other jokers, Murr's comedic journey first started in his freshman year of high school. He met three other students during a random class they attended: Joe Gatto, Sal Vulcano, and Brian Quinn. The four quickly became friends, and it was obvious to everyone around that they had great chemistry. A few years after high school, Murr and his friends would meet up again, each sacrificing a prospective career in order to pursue their dreams of venturing into comedy.
To that effect, they all met up at Joe's house a few times a week in order to perfect their comedy bits and routines. A few months later, Murr and his friends were making a name for themselves across multiple platforms. They not only worked lived events but also toured multiple states. After a while, they even decided to take their act online, branching out on platforms like MySpace, YouTube, and MetaCafe.
In 2008, Murr and the rest of the jokers got the opportunity to shoot a pilot for Spike Tv. Unfortunately, the network rejected the group's pitch.
This is where Murr stepped in. His work with North-South Productions paved the way for a collaboration with Tru Tv. Subsequently, the very first episode of the Impractical Jokers officially aired on December 15th, 2011. Since then, Murr has featured in over 200 episodes, spanning a total of 10 seasons.
Murr has had his fair share of accidents while working on the show. Remarkably, both he and Q have lost teeth while they were in the middle of a shoot. Other than that, he is also one of two jokers (the other being Sal) who have never won a challenge on their own.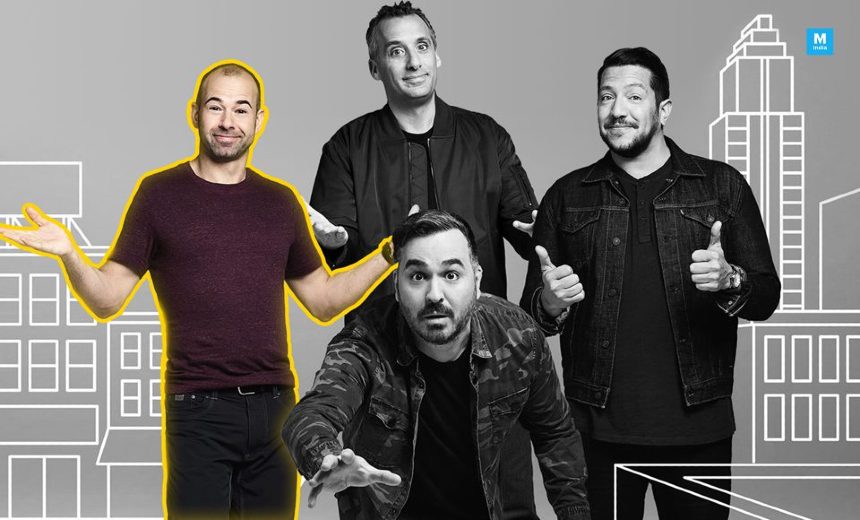 Net worth
James Murray has a few avenues of income. The very first comes from Murr's work in comedy. As a member of the tenderloins, Murr reportedly made $25,000 after they won a comedy contest sponsored by NBC. Moreover, Murr and the rest of the jokers also make money from touring different states. For instance, their Jacksonville live show tickets ranged from $49 to $285.
As one of the main headliners, James received a significant chunk of the profit. Other than that, Murr and the group also generate a good amount of money from the sale of merchandise. A yearbook T-shirt of the gang retails for about $20.50 on the gang's website. Furthermore, sources say that when the impractical jokers first aired, Murr was on a salary of $26,000. After a few years, this figure went up to $50,000.
Other than this, Murr is also a published author with five different books in the market. These include books like The Brink, which is available for $10.
Murray's most recent book is titled 'The Stoneway: A Novel,' which is currently available for pre-order. As of 2021, James Murray's net worth is $8 million. This makes him the wealthiest joker on the show.
He was previously married to Sal Vulcano's sister Jenna in 2014.
During the third season finale of the Impractical Jokers, the gang decided to kick things up a notch at Sal's expense. As a punishment, Sal had to watch Murr marry his sister, Jenna Vulcano. Before the ceremony started, the jokers played a special video for Sal and the rest of his family. The video depicted Murr and Jenna's love life.
It showed the two out on dates and even writing their names in the sand as some couples do. On the big day, the joker's covered Sal's eyes and wheeled him to the chapel where the ceremony was taking place.
They eventually took Sal's blindfold off, and he was visibly stunned at what he found. Murr was waiting patiently on a raised dais, with a priest standing next to him. Sal, who was tied up at the time, could only watch helplessly as his sister Jenna walked down the aisle towards Murr.
Sal thought it was a joke and tried to make a nuisance of himself in order to disrupt proceedings. As soon as official documents were pulled out, however, Sal began to panic, questioning the legality of everything. The most hilarious part of the entire ceremony came when it was time to recite vows. Instead of using Jenna's actual name, both the bride and groom to be used the phrase 'Sal's sister.'
Murr added insult to injury by claiming that not only had he gotten a wife, but he had also gained a brother. This drew a prolonged laugh from the gathered audience before the proceedings went on again. Fortunately for Sal, Jenna and Murr annulled their marriage the very same evening. To date, this remains one of the best pranks that Murr has ever pulled off on the show.
He is now married to his wife, Melyssa Davies.
Murr and his wife, Melyssa Davies, first met back in 2018. This was during a launch party in New York for his latest novel, 'Awakened.' Melyssa is a nursing school graduate who has set her sights on venturing into the world of geriatrics and hospice care.
At the book launch, the comedian's wife approached Murr and started a conversation with him. The two would talk for a good chunk of the evening before Murr finally gave Davies his number. At the end of the night, there was no doubt in anyone's mind that Murr was smitten.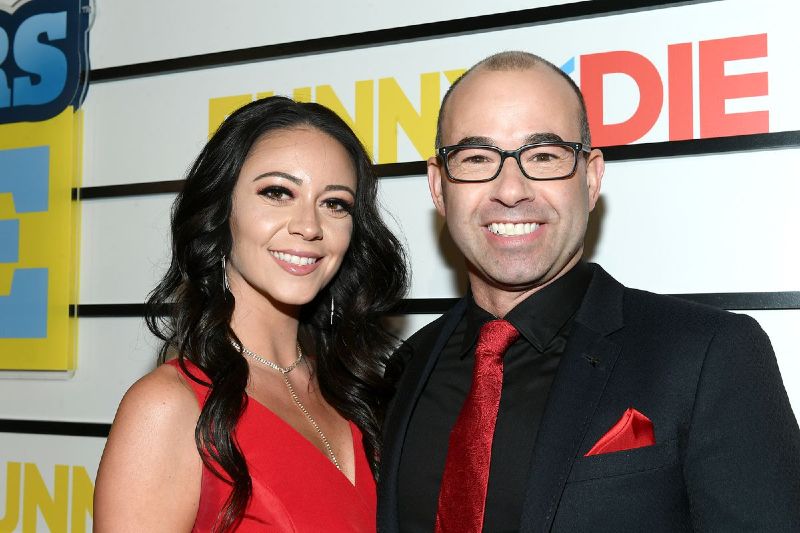 He even asked a few people in attendance whether they knew anything about the woman he was talking to earlier. Interestingly, about three months passed before Murr heard anything from Davies. Once they started talking, they never stopped.
They were soon going out on a date at Buddakan, one of Murr's favorite New York-based restaurants. Murr revealed that the other three jokers cornered him before the big date and told him not to screw things up because they liked Melyssa.
The first date ended with a kiss, but the two would continue seeing each other throughout the year. In 2019, Murr and Melyssa went on a 5-day vacation in Turks and Caicos. Interestingly, they spent most of their time playing scrabble. This vacation also marked the first time that Murr told Melyssa that he loved her.
Soon after, Murr started working on his plans to propose to his current spouse, Melyssa.
His initial idea was to take Melyssa back to the resort that was the venue of their first vacation. He was forced to change tactics after hurricane Dorian rocked the Bahamas on the eve of their travel.
On the 30th of August 2019, Murr decided that a more direct approach would work best. He organized a picnic, complete with a bottle of champagne and their favorite pass time, Scrabble. Melyssa was under the impression that they were celebrating the fact that they had just bought a house in New Jersey together.
Murr proceeded to arrange the letters 'Will You Marry Me' on the board. He then got down on one knee and whipped out a Tiffany & Co. solitaire round diamond ring.
Unsurprisingly, Melyssa said yes, and the two were engaged. They'd go on to tie the knot on the 26th of September 2020 in front of a small crowd in masks. This was all in line with the Covid-19 regulations at the time.
The fact that one of his best friends, Joe Gatto, officiated the wedding only made it more special. In an interview with People magazine, Murr further revealed that they kept the scrabble board he used for the proposal. It hangs over their wall as a memento of their love.
Murr and Melyssa are Animal lovers.
In an interview with the host of the Meet the Pet Podcast, Murr and Melyssa talked about their puppy, Penny. They went into detail about their experience with Penny and all the responsibilities and difficulties of taking care of a dog. The two even talked about Penny's sweet personality.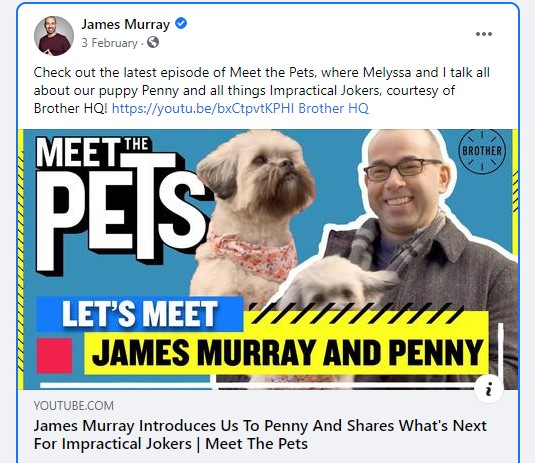 Murr secretly filmed thousands of fans proposing to Melyssa.
While Murr was on tour with the rest of the tenderloins, he reportedly filmed about 40,000 fans proposing to his partner, Melyssa. These were fans scattered all across the county. At one point, Murr even revealed that he had more than 20,000 people in one video.
What's even more remarkable is the fact that all the fans, even the ones filming on their phones, kept the secret for six months. Murr would eventually share the video with Melyssa after their engagement.
Is James Murray Gay?
Judging from the fact that James married a beautiful woman, we can safely say that he is straight. So, where did the rumors of him being gay stem from? Well, this was part of another elaborate prank at Murr's expense. Both he and Sal were guests during the Daytime Talk Show with Sally Jessy. While the two were being interviewed, Sal shockingly admitted to being gay. Moments later, he took back his confession, which in turn prompted Murr to reveal that he was gay.
Sal went on to admit that he had only made the confession as a way to encourage Murr to come out of the closet. His confession elicited murmurs of discontent as sexuality tends to be something a lot of people actually struggle with. It became glaringly obvious that the whole thing was a prank after Murr's engagement to Melyssa came to light.
Age and D.O.B
James Murray was born on the 1st of May 1976 in Staten Island, New York. It means that he turned 45-years old just last month. James is also a Taurus as far as his zodiac sign is concerned. Remarkably, there is a 19-year age difference between Murr and his wife Melyssa, who is 26-years old.
Despite being in his 40s, Mur's birthday day celebrations have often proven childlike almost in nature. Back in 2017, for instance, he celebrated his big day with a game of air hockey with Colin Liander.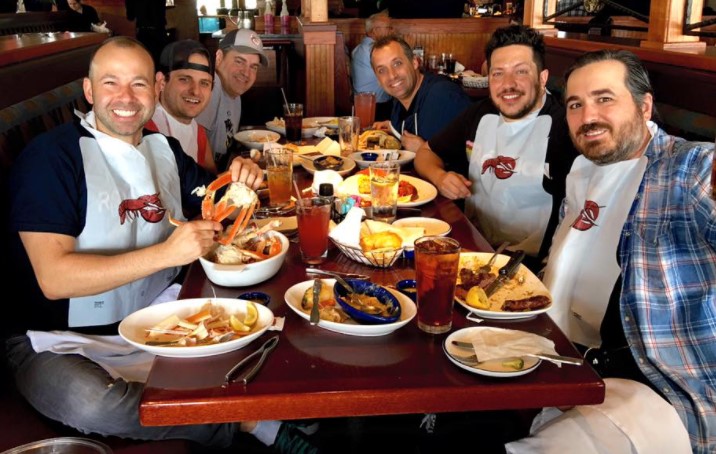 On the very same day, he also conquered one of his fears (crossing a thin narrow bridge with a harness). A few years earlier, Murr had spent his birthday at red lobster with his three best friends: Q, Sal, and Joe. This was a tradition that he tried to uphold year after year. In fact, one of his last birthday posts featured Murr and his wife Melyssa posing outside red lobster after lunch.
Height and Measurements.
Murr is the tallest member of the impractical jokers. He measures 1.8 meters (6 feet) tall. Moreover, James weighs approximately 78 kilograms (172 pounds). His friends often joke that one of Murr's defining physical attributes is his receding hairline.
In one episode, James lamented the fact that he started losing his hair when he was in his early 20s, which explains the glaring bald spot he now has. Additionally, Murr also has hazel eyes and dark hair.
Movies and TV shows.
Murr's first brush with films first came back in 1997 while he was still in college. He was featured in an uncredited role in the student film 'Private Parts.' The very next year, James took a bold step as he wrote, directed, produced, and starred in his very own film. Damned was a retelling of Jesus' story in the bible, and it saw Murr take on the role of Judas.
Unfortunately for him, the film was not well-received and considered a dud. His friends would even later use the movie as a part of a prank. Gradually, Murr would decide to make the switch to television. Presently, he has over 20 different credited roles on various shows and short films. These include projects like Drunk History, 12 Monkeys, God's of Medicine, Criss-Cross, and MacGyver.
Interestingly, Murr has delved into the world of production over the past few years. Back in 2018, James was one of the executive producers on Awakened, a project that was based on one of his stories. His most recent work has come on the Misery Index.
This is a game show that features Murr, the rest of the tenderloins, and actress Jameela Jamil. Two groups are pitted against each other as they compete to determine who has had the worst life experiences. So far, Murr has worked on all 40 episodes that Tru Tv has released.
Top Pranks Pulled on James Murray
Human Piñata- Despite not being the only loser on the night, Murr is the one chosen for this particular punishment. The other guys force him into a human piñata costume, then hire a crane to pull him up into the air. This is when the jokers reveal a group of children with sticks, who proceed to whack Murr relentlessly as they want to get the candy in his suit.
The punishment continues for a few minutes as Murr yells in agony. After the kids are not able to get the job done, Joe tags in his brother-in-law, who has a bone to pick with Murr. (He took suggestive pictures with Joe's sister). Joe's brother-in-law then proceeds to beat Murr aggressively until the candy scatters to the ground.
Puncture Perfect- Murr is again the victim of a fairly creative prank. The other jokers put him in front of a wheel of piercings, which he had to spin every time he got a question wrong. The object is to get three right answers for the punishment to end. Unfortunately, Murr ends up with a belly button piercing and two different nipple piercings. Moreover, the guys also made him wander around the harsh streets of New York bare-chested.
The Blunder Years- In this punishment, the other jokers lather Murr in grease and squeeze him into speedos under the guise that they were going to be signing him up for a body-building contest. Instead, Murr later discovers that he has to sit down for an interview with Danica McKellar, who the guys knew was his childhood crush. To make matters worse, the jokers had Danica appear unimpressed just to add salt to injury.
Paradise Lost- Murr is forced to face one of his greatest fear this time, sharks. The jokers grab his passport and place it underneath a shark cage. Murr's cage is lowered into the water, where he has to contend with several sharks lurking about. They nibble at his cage as he tries to retrieve his passport underneath. The other jokers kick things up a notch as they let the cage drift further out to sea.
Stripteased- Murr has to get an injection of histamines, which, the guys know he is allergic to. The injection leaves Murr with unflattering bumps across his body as his allergies flare-up. Murr is then forced to perform a male strip show in front of a large audience. To make matters worse, he also has to give a visibly distressed woman a lap dance at the end of the night.
Top Pranks Pulled by James Murray.
Fe-mail- Murr and the other jokers devise an embarrassing punishment for Joe at the end of the night. They dress him up as a woman in full makeup and convince him that he will be featured in a fashion show. This is not the case. The reality is that Joe has to give a talk to teach students about new apps while he is dressed as a woman.
Stare Master- Joe is again the night's big loser in this episode. Murr and the other two jokers come up with a punishment that is likely to get him beaten up. They make Joe go to the gym and stare at people weirdly until they get uncomfortable. The three then decide to take things to the next level as they tell Joe to keep staring someone drops the F-bomb on him.
Psychotic not-line- Murr and the gang make Sal pretend to be a psychic. He then had to talk to a large crowd of people and wasn't allowed to leave until he made an accurate prediction. Unsurprisingly, things took a funny turn really fast.
Deal with the Devils- Sal and Q were this episode's losers. To that effect, Murr and Joe had them pretend to be hockey goalies during a pro-hockey game. Sal and Q shouted in distress as professional players chucked slap-shot pucks at them. At one point, the pair even slipped and hit the ice hard, accentuating their embarrassment.
Mime and Punishment- This was one of the most peculiar punishments ever devised on the show. Murr and the rest of the jokers decided to handcuff Q to Pierre, the mime, for an entire day. This happened while the tenderloins were on a live performance tour. Q was forced to deal with Pierre's annoying behavior for a full 24 hours before he was finally released.
Social Media Activities.
Murr is very popular on Instagram, boasting around 1.5 million followers at the moment. His recent post was aimed at promoting his latest book, the Stowaway. Murr offered his followers the chance to win a signed copy of the book. A further dive into his profile revealed that he is quite fond of his dog, Penny. One post, for example, shows the two snuggling up at night.
Additionally, we also get a look into Murr and Melyssa's personal life. The two like to go out on dates to keep the romance alive. We also get to see the couple's fun side during Melyssa's last birthday as Murr threw her a 1920's Murder Mystery-themed party at the Mathis House.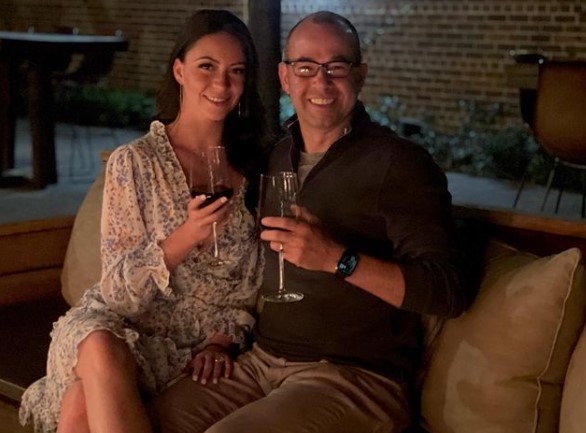 Murr is also active on Twitter, where he has about 1 million followers. This platform is almost entirely dedicated to promoting his career on television and podcasts. Other than that, James also promotes the live events that he is scheduled to attend. For instance, we found that he was slotted to participate in the Pensacola Comic-Con event last month.
Tiktok is another platform that Murr also uses. Presently, he has over 750K followers and 3.8 million likes on the platform. A majority of the videos posted on his tiktok are short comedy skits.