Joseph Anthony Gatto Jr is a stand-up comedian, television personality, and producer. He rose to fame with the advent of the reality show, 'the Impractical Jokers.' Long before he became a joker, Joe was also a founding member of the Tenderloins. Apart from his professional life, Joe is also a family man who has been happily married to his wife, Bessy Gatto, for eight years.
Moving away from television, Gatto is also an animal rights activist and a staunch supporter of the Animal League. He recently set up a lemonade stand at the round tree to raise money for the organization. Meet his wife, and uncover more facts about his age and net worth.
Joe Gatto's Wife.
Joe is married to a woman named Bessy Gatto, who is an animal rights activist and budding influencer. Bessy was born on the 4th of April 1982, making her 39-years old as of 2021. Joe and his wife tied the knot back on the 2nd of September 2013 and have been married for eight years so far. In the process, Joe and his spouse Bessy have had two children together.
Besides being a stay-at-home mom, Bessy has also enjoyed a brief stint on television. So far, she has appeared on two episodes of the Impractical Jokers. A look at Bessy's social media activity also revealed that she is quite fond of traveling. She and her family took a trip to the Bahamas back in 2019.
Moreover, being animal activists, Bessy and Joe also took a trip to the Woodstock Farm Sanctuary.
Bessy uses her Instagram page (which has over 100,000 followers) to support the Animal League. This is an organization that works to promote the protection of animal rights. Joe Gatto's wife also uses this platform to encourage her followers to adopt dogs rather than acquire expensive dog breeds.
Another interesting fact about Bessy is that she is a self-professed California girl. She even went as far as to get a California tattoo on her right foot. This would suggest that it is her hometown. Being an influencer, it comes as no surprise that Bessy sometimes promotes different brands on her Instagram page. For instance, she is a brand ambassador for uncommon James jewellery.
Joe Gatto Parents.
Joe is the son of Joseph Sr. and Gerri Gatto, who served as an administrative executive for St. Adalbert's School. Joe's parents spent 28-years of marriage together, raising three children in the process. Joseph sr. passed away back in 1995 after a prolonged struggle with alcoholism.
At the time of his death, Joe's father, Joseph sr., had severely damaged his pancreas. Joseph Sr's struggle with alcoholism turned Joe completely off drinking. In June 2012, Joe's mother Gerri would also pass away suddenly, aged 67. On the seventh anniversary of his mother's death, Joe posted a heartfelt message on Twitter.
Joe talked about how sudden and devastating his mother's death was and how greatly it affected him. Other than that, he also asked his fans to appreciate their parent's legacy and hug their mothers if they were still alive. Joe went on to thank his mother for molding him into the man he was.
Age and DOB
On June 5th, 1976, Joe Gatto was born in Staten Island, New York. He is set to turn 45-years old in a week or so. Being as popular as he is, it was not surprising to find several birthday messages littered across Joe's Facebook profile. Back in 2017, Comedy Central wrote him a heartfelt message on his birthday.
Fast forward to 2019, and it was the Prudential Center's turn to wish Gatto a happy birthday on their Facebook page. Interestingly, Joe likes to use his birthdays as a way of raising funds for various non-profit organizations. His 44th birthday celebration also proved memorable, particularly as the Impractical Jokers' cast organized a dinner party for him.
Net Worth.
It is fair to say that a bulk of Gatto's income can be directly attributed to his time on television. To date, he has been a part of the Impractical Jokers for nine seasons and over 200 episodes. Sources say that Joe earns roughly about $50,000 for every episode he starred on. Moreover, Joe also made a decent living as a comedian back in 2007.
As part of the Tenderloins, he competed in the NBC special 'It's Your Show.' Joe and his friends emerged victorious, taking home the $100,000 grand prize which they split four ways. Besides comedy, Joe also makes money through his work in print media. He is the author of a book titled 'The Dogfather', which retails for $15 on Amazon.
As of 2021, Joe Gatto's net worth is $7 million.
Joe Gatto's Journey on Impractical Jokers.
Joe's journey on the Impractical Jokers dates back to the 90s when he first met the other Jokers. At the time, the four of them were students at Monsignor Farrell High School. Nine years after high school, Joe and his friends would reunite to reignite their interest in comedy and improv.
They practiced for about half a year before they were finally ready to go on stage. Due to the changing times, Joe and the rest of the Jokers decided to take their act online. Their videos eventually attracted the interest of Spike Tv, who commissioned them to make a pilot season for the 'Impractical Jokers.'
Remarkably, Joe had decided to leave the jokers before filming. It took the intervention of Sal and Q to change his mind. Though Spike Tv decided to drop their interest in the show, Tru quickly stepped in. The first season of the Impractical Jokers would air on the 15th of December 2011. Nearly a decade on, and Joe has appeared in 11 seasons and 228 episodes of the show. Besides starring on the show, Gatto has also served as one of the series' executive producers.
Moreover, he went on to feature on other subsequent spin-offs: Impractical Jokers-After Party, One Night at the Grand, and Dinner Party. In 2020, Joe would even appear in a movie version of the Impractical Jokers.
Top 5 Pranks pulled on Joe Gatto.
Enter the Dragon- Joe and Sal tied for first place and were forced to be the opening act for Imagine Dragons. The caveat was that neither of them could play any of the instruments present on stage. Moreover, Joe and Sal had no idea what they were going to be signing beforehand. They embarrassed themselves in front of thousands of people.
Belly Dancer- After losing a challenge in the first season, the rest of the jokers forced Joe to dress up and pretend to be a belly dancer. He had to perform in a room full of stunned patrons, half-naked.
The Lover Expert- After emerging as this episode's loser, Joe is put in a booth and forced to answer questions, posing as a therapist. While everything starts out deceptively calm, Joe is quickly ushered into a world of awkwardness. The jokers force Joe to recount made-up details about his relationship with a 103- year old woman. At one point, he was even forced to describe the old woman's body.
Out of Toilet Paper- Joe is forced to walk into a restaurant, go to the bathroom, sit on the toilet, and pull his pants down. The embarrassing bit comes when Joe has to leave the door open. Moreover, he has to flag down random customers as he pleads for toilet paper.
The jokers put Joe in a straight jacket and chains, forcing him to perform as an escape artist. While he does his best to escape, he finds himself unable to do so.
https://www.youtube.com/watch?v=uT96eX7JJ3Q
https://www.youtube.com/watch?v=pBlqVJ38OTs
https://www.youtube.com/watch?v=U6lE5YCCaWE
https://www.youtube.com/watch?v=gz_Z_pQWQOQ
https://www.youtube.com/watch?v=MqWyTA6pSkM
Top 5 Prank Pulled by Joe Gatto
Joe once made Sal Vulcano sit in a coffee shop with a computer. He and the other jokers then proceeded to play sound effects that made the people around him think that he was watching porn. At one point, an attendant even asked him to switch it on, but Joe and the jokers forced him to turn the computer back on.
Joe and the gang force Murr to sign for a live prostate exam. After he gets through it, they make him bend over for a second one from a different doctor.
Murr is again the victim of one of Joe's pranks. He is given three things: a dummy with Murr's blanket, a black man, and a countdown timer detailing when not to love. Murr has to provide a detailed account of each piece of work.
Miss and Swing- Joe and Sal devise a genius punishment for Q and Brian. They have to take free throws on a basketball court. Every time they missed, they got hit in the legs with a baseball bat courtesy of a little girl.
The Butt of the Joker-Joe and the rest of the gang come up with another ingenious prank on Murr. They make him wander around town as a walking PSA against smoking. Murr is forced to pry cigarettes off the mouths of random strangers and stomp them out. The gag makes him do this until Murr takes an entire pack of cigarettes from a random man.
https://www.youtube.com/watch?v=0sG4zqIThy0
https://www.youtube.com/watch?v=TCgxjNu5kdU
https://www.youtube.com/watch?v=BmuBFp9yXwM
Kids.
Joe and his wife Bessy have two children: Remington Joseph and Milana Francis Gatto. Their daughter, Milana, was born on the 7th of May 2015 and is six at the moment. Remington, on the other hand, is set to turn 4-years old this year.
On the 31st of July 2017, Remington was born two years after his sister. Milana and Remi are quite close. In fact, back in March, Joe took the kids snowboarding. Milana, being slightly inexperienced, fell, and her brother rushed to her side. Remington encouraged her to get up and keep going.
Height and Measurements.
Joe measures in at 5 feet 10 inches (178 cm) as far as his height is concerned. He also weighs about 85 kilos (187 pounds).
Joe Gatto on TikTok.
Joe Gatto's popularity is evident on TikTok as well. Presently, he has 5.6 million followers on this platform and 45.2 likes in total. One of his most popular videos (with over 48 million views) on TikTok is his love story dance challenge. The post features Joe hilariously dancing to the Taylor Swift song.
Last year, during the pandemic, Joe also used his TikTok to show his fans what he had been up to. This particular video got 23.4 million views. Gatto recently used his account to promote the adopt don't shop campaign. This was a movement aimed at getting dogs out of shelters and into loving homes.
Is Joe Gatto Vegan?
This has been the question on everyone's mind ever since Joe lost weight. Moreover, his wife, Bessy, is an advocate for vegan living. It would therefore stand to reason that the rest of the family follows the same diet. Back in 2016, Joe decided to become a pescatarian. This means that he avoids meat entirely and substitutes it with fish.
Being pescatarians is about as close to being vegan as you can get without anyone committing. They eat seeds, fruits, beans, whole grains, eggs, and vegetables. Additionally, Joe also reduced his meal portions and completely cut out lemonade and fizzy drinks.
Joe Gatto Dogs
In total, Joe and his family have nine dogs: Cotta, Spumoni, Biscotti, Panna, Tarfuto, Ganache, Napoleon, Struffoli and Cannoli. He had three other dogs: Pignoli, Mishkeen, and Zeppole, who unfortunately passed away. One thing Joe's fans were quick to point out is that most of Joe's dogs derive their names from desserts.
In an interview, Joe revealed that Spumoni was a Yorkshire terrier mix.
He went on to add that Biscotti, who he said was his favorite, was part-Havanese.
The rest of Joe's dogs are mixed breed. Another similarity Gatto's dogs share is the fact that they are from shelters. Interestingly, Joe's dogs take up a significant chunk of his social media platforms.
In one post, Joe's son Milano is hugging Cotta. He was comforting the dog as she was about to go to the vet for a serious procedure. Cotta had one of her eye's taken out as a result of a severe case of glaucoma, which not only caused bleeding but also pain.
Back in January, Joe also posted a picture of Struffoli settling into her new home after they had adopted her.
Last Christmas, Joe released a very special post that featured all nine of his dogs in matching x-mas sweaters. He also used the post to remind people to adopt puppies into shelters.
December 2020 was also an important time for Joe's family as they officially adopted Ganache. The dog was ten years at the time and had been under the care of the animal league after a major surgery, where five tumors were removed.
Back in November 2020, Joe wrote a touching post about Pignoli, one of his senior dogs who passed away. Before they adopted her, Pignoli spent several months living in an apartment stairwell.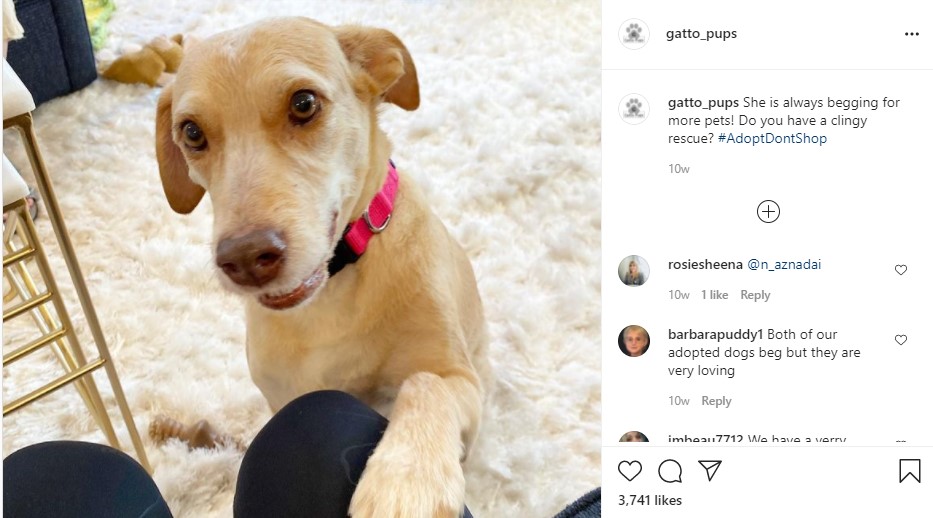 Two years back, Biscotti also featured in one of Joe's posts. She was on the couch, resting.
On the Gatto Pupps Instagram page, Joe also posted a picture of Napoleon enjoying a ride in the back seat of the car.
On TikTok, Joe also revealed how clingy Struffoli is as he is constantly in need of attention.
Spumoni is another dog that featured on Joe's TikTok page. In this particular post, they are both trying out a tiktok challenge.
In another post, Brian Q, one of Joe's closest friends, posed with his dog Mishkeen. This was before she passed away.
https://www.instagram.com/p/CN-Ih0DL8PF/
https://www.instagram.com/p/Bzk_5nigXkR/
https://www.instagram.com/p/CJB20fMASJp/
https://www.instagram.com/p/CJ7nineAtmM/
https://www.instagram.com/p/CJOSOF7AnuY/
https://www.instagram.com/p/CO8Ca8hr2Nf/
https://www.instagram.com/p/CNsWmASBFp7/
House.
Two years back, Joe listed his Lynbrook property for $779,000. The house boasts amenities such as heated floors, an open-plan kitchen, three bedrooms, and a fireplace. Most fans of the jokers would recognize the property from their show. In a practical joke at Joe's expense, his friends covered everything he owned (furniture, fruits, and glasses) in wrapping paper.
Remarkably, it took Joe almost four hours to unwrap everything. Presently, Joe and his family live in a different property in Amagansett, New York. The house sits on lush green property that comes complete with white picket fences.
Its interior also consists of bright hardwood floors, as well as a vast opulently furnished living room. This is where you'll find most of his dogs lounging around from time to time. Other than that, the property also has an outdoor pool.
Sisters.
Joe grew up alongside a younger sister, Carla, who appears to be in her mid-30s. Carla featured in a single episode of the impractical Jokers. Her appearance came at Joe's expense, particularly as she posed in bed with Murr. We also learned that Carla is a married woman once her husband showed up on the show to take his revenge on Murr.
Other than that, a look at Joe's Facebook page also revealed that Carla has a son. In the post, Joe's sister talked about how she had to explain to her son what an orgasm was and even show him what one sounded like. This was because Carla and her family had been watching the Impractical Jokers when the joke came up.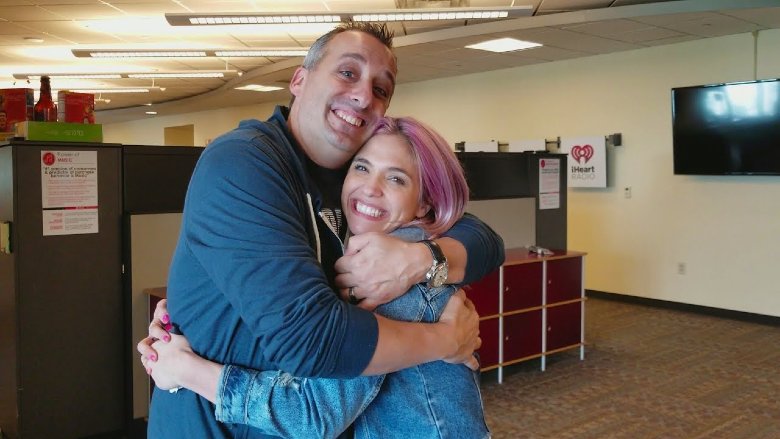 Weight Loss.
Remarkably, Joe used to weigh more than 200 pounds at one point. The rest of the jokers did not let him forget the fact that he was fat. They constantly mocked him for his eating habits and ridiculed his weight. To Joe's credit, he switched up his diet, losing 40 pounds in the process. Gatto made the change nearly four years ago, cutting out meat and sweet drinks completely from his diet.
However, recent videos that he has released on TikTok would suggest that he is putting some of that weight back. This was to be expected during 2020's Quarantine period as most people were stuck at home, with limited movement.
Dead or Alive?
Joe Gatto, our favorite joker, is alive and breathing. So, where did the news of his death come from? Well, the simple answer is that it was all a case of mistaken identity. Back in 2013, the LA times published a story about the death of a man named Joseph Gatto, who succumbed to a single gunshot wound to the stomach.
This, however, was not our favorite joker. The Joe Gatto who passed away was a 78-year old retired teacher turned artist. He was the victim of an aggravated assault. Because the two share a similar name, fans of the jokers feared that it must have been Joe from the show.
Where Does He live now?
Joe, his wife, and two kids presently reside in a two-storied house in Amagansett, New York.
Why doesn't Joe Gatto Drink?
There are a number of reasons why Joe is put off by drinking. The first is that he witnessed firsthand how it could destroy families in the case of overindulgence. Joe's father was an alcoholic who eventually succumbed to difficulties that arose from drinking too much. Moreover, drinking also adversely affected his weight and subsequent quality of life. In order to keep up with his young children, Joe had to stop drinking completely. He instead opted for water or coffee.
Joe is an animal rights activist.
This evident is all across Joe's Instagram page. One of his main goals in life is to have a positive impact on the lives of abandoned dogs. It explains why he has rescued more than ten dogs so far! Moreover, Joe and his wife are also two of the driving forces behind the 'Adopt Don't Buy' Movement.