Monica likes heavy machinery and bossing around people, as she states in her Facebook bio. She knows the big machines and equipment like the back of her hand as she grew up with them. The girl has always been a quick learner, not afraid of the dirt and oil, and worked full time for her father from the age of 16. Monica rose to fame when she started featuring on the popular Discovery series Gold Rush and led a crew of men and women twice her age.
This article emphasizes the TV star's bio and net worth. Also, know her husband and their kids.
Who is Monica Beets?
Monica Beets is a cast member of the famous TV reality show 'Gold Rush.' Being the daughter of the legendary Klondike miner Tony Beets, she is also known as the Gold Rush princess. She was born in November 7, 1993, in Canada to parents Tony and Minnie Beets.
Monica was fascinated by large equipment from an early age, and her father, Tony, would leave her on her own around them. When she turned 18, she was given the responsibility to supervise Paradise Hill. She likes the looks of people when they assume her to be the cook for the crew, but she actually runs equipment and manages the task.
Monica completed her early studies in a local school in Dawson City. She didn't attend college and pursued her passion in mining, not that she needed to anyway. She is 28 years of age as of 2021, and her zodiac sign is Scorpio. The TV star is 5 feet 4 inches tall and weighs about 60 kilograms. She has blonde hair and hazel eyes.
Net Worth
Monica has a net worth of $2 million which continues to grow thanks to her lucrative career and family business. Her appearance in the series 'Gold Rush' also helped accumulate this sum as she is reportedly paid about $20,000 per episode.
Who is Monica Beets's husband?
In 2018, Monica met her soul mate in the city of Yukon. His name is Taylor Mayes. The couple dated for some time before deciding to tie the knot on August 11, 2018, in Dawson City, Yukon.
The wedding ceremony took place in Yukon, and the couple exchanged vows in an outdoor space. It was attended by every one of her family, including the pet dog Doyle and some friends.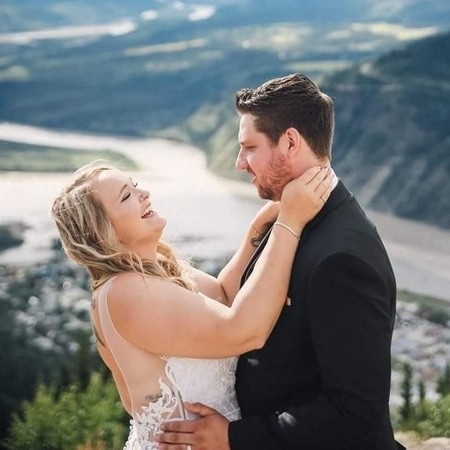 The white gown Monica donned in her wedding was impressive, and so was her husband's immaculate suit. Jennifer Marie photographed the ceremony, who is a renowned local photographer. She shared her wedding photographs on her social media, including her parents, siblings, dog, and husband.
After three months of marriage, Monica shared a tweet expressing how lucky and loved she felt in the presence of her soulmate.
Some days later, Monica Beets changed her display picture of her Twitter handle with the image of the couple. Months after, she still clung to the wedding vibes; this was evident by her social media posts. Although the couple got married in mid-2018, it wasn't mentioned on the show until 2019.
It should be mentioned Parker Schnabel also had a crush on Monica. And she was involved in relationships prior to her marriage to Taylor. But these facts are irrelevant now, and we see no reason to discuss them further.